Need a Quote?
Our inquiry form is a great way to get in touch with mechanics quickly
2 Year Warranty
Work you can trust because it's done right. If a problem arises, we are here to fix it
Saves You Time
We know your time is valuable, we can drop off and pick you up so you can get on with your day
Quality and Honest Automotive Repair
We know it's difficult to find an automotive shop that you can trust. We work hard to gain your trust and keep it with honest and quality repairs.
---
Emiliano Canales is the proud owner of EC Quality Car Care. He opened the automotive repair shop around 18 years ago with his wife Margie Canales. He has always had a love for fixing cars and helping people. He dedicated his life to helping others by providing affordable automotive services that people can trust.
With the university near by, Mr. Canales is always helping students get back on the road. With three children, he knows how important it is to have someone nearby you can trust. His son is in the Air Force and his daughter is a military spouse. He works hard to provide discounts to students and military members. 
EC Quality Car Care is growing quickly with new technology and products to make sure your vehicle will be up and running efficiently. 
"We understand you have a choice in automotive repair, and as a family-owned small business, we greatly appreciate your business and we welcome you as family." -Mr. Canales
---
Testimonials
September 2015- EC is a good guy. I have been using him for about 15 years with at least 6 different cars. In those years what I have valued most is his willingness to look at my perspective. If I tell him I cannot afford A,B,C&D he is willing to sit down and help me prioritize the repairs or decided if I need a new car. I also found him to be very honest. I recently took my car in for a new AC compressor. It had all the tail tail signs. I saved up the money, dropped of the vehicle and gr…
Mike Calloway
October 2015- Went to quality car care about a week ago for a repair done on so link bolts on the ride front wheel. The customer service was the best out of any car repair shop I've experienced in San Antonio. They were honest, updated me periodically about the status of my car, and also were very friendly people in general. I would definitely recommend anyone that is having car trouble here to this shop as I know they would not be disappointed!
Aaron Tolbert
December 2015- Great experience at EC Quality Car Care every time I go. Very polite and professional. I feel very taken care of, as if I am going to my dad's shop, and I know my car is in the great hands of certified mechanics. Definitely recommend this establishment time and time again.
Zeliene Brown
August 2015- Great professional auto repair center. Services I have visited EC Quality Car Care include oil changes and tune-ups. Great same day service. Never worry about waiting days for repairs to be complete. Great "dealer-style" atmosphere.
Rudy Ramirez
April 2015- Awesome place! Went in just to ask for a price, and left within an hour very satisfied! Great people working there. Very professional and friendly. Will definitely come back when needed.
Lestat Manson
July 2015- I've been to a couple shops out here in San Antonio and none of them have compared to E C. The guys at this shop know what they're doing. Very professional and knowledgable. The bays were clean and well organized. The owner of the shop has been in there every time I've gone in and you can tell from the moment you talk to him that your car is in good hands. The prices are very fair as well, and when I went in last they were offering 10% off for students at UTSA. This is a shop that I w…
Noah Trent
Our shop


Latest Technology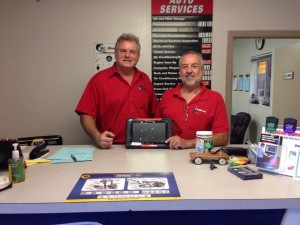 School Support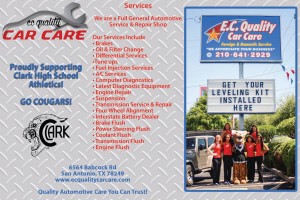 Our Products