Quality and Honest Automotive Repair
Hello! I am Emiliano Canales, the proud owner of EC Quality Car Care. I have owned this shop, with my wife Margie Canales, for 18 years. My love of automotive repair started young. My father Joel Canales owned a Texaco in San Antonio and I worked there since I was 10 years old. In 1968, hard work and customer service wasn't encouraged, it was mandatory.
These ideals are carried with me and my family as we serve you. Two of our children attended UTSA and we offer a discount to students. Our son and our son-in-law are active duty military. We appreciate our service members. Come in and get our military discount.
We understand you have a choice in automotive repair, so our family strives to make your experience as pleasant as possible. We are a full general automotive repair shop with the latest technology to service your vehicle. We understand that budgets are important, and we can tell you what you need and what can wait.
We are a member of the Better Business Bureau Association with an A+ Rating. Come see us for all of your automotive needs. I pride myself on great reviews. Please check out our reviews on Google, Yelp, Yahoo and CitySearch.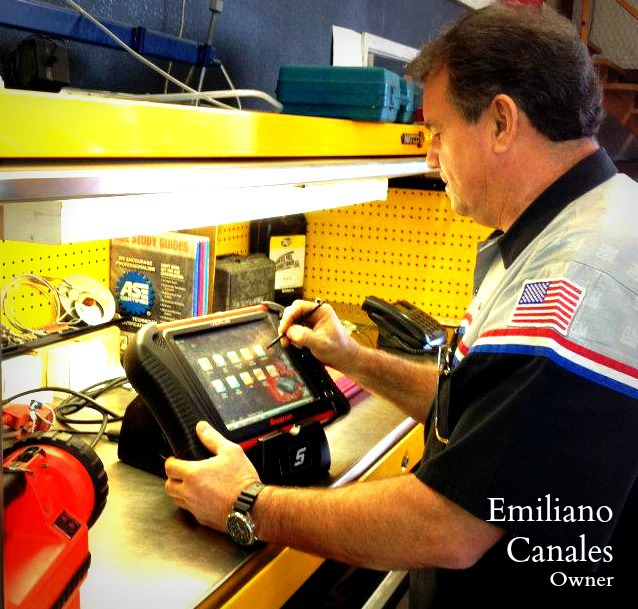 Testimonials
E. C. Quality Car Care Honest car care – Friendly, attentive staff. They try to make sure that things are done right. They are honest in their transactions and I have checked their prices against other shops and they are always in line. Never the highest. One time, my car was damaged by a sub-contracted transmission shop. E.C. Quality Car Car made sure that the damage was repaired to my satisfaction at no cost to me and without any hassle whatsoever. On another occasion a repair was made and a…
Great people, professional and honest. They offered me a ride back home and also offered to pick me up when my car was done. I'm glad I found them. And ever since my experience with them I've been recommending them to my friends. I really admire people with high levels of dignity and honesty, I would pay higher prices if that's what I get in return. Highly recommended!
Very kind and honest people. They found the problem of my car and repaired it quickly. The owner was very nice and gave me a follow-up call the next day to make sure that my car was working fine. I would strongly recommend my friends to this place.
Great job and great price…Thank you!
I have been to EC Quality twice in the past 2 weeks. The first time, I got a 90K maintenance check. I called 3 stores and was quoted prices ranging from $180-$450. Needless to say I chose EC Quality for $180. When I asked about the difference, the owner showed me a list of Mazada recommended flushes and check ups. He did NOT attempt to foist extra flushes or extra charges (i.e. changing spark plugs, flushing the transmission and coolant, etc.). He then very honestly told me many of the flushes a…
If you are in need of routine or major service to your vehicle, EC Quality Car Care on Babcock near De Zavala is the place to go. My family and I have been going there for years and they have always done an excellent job taking care of us!
The folks at EC Quality Car Care really go above and beyond to help you with your car issues. They are service oriented- will drop you off, present options to you, and are totally trustworthy. They treat you and your vehicle as if it were their problem. They really are a quality car care business.
Easy to work with, kept me in the loop so I knew what was happening. Worked with me on what needed to be worked on. Able to valet me to the shop for pickup. Thanks!!!
I loved this place. I was frustrated with Midas and their rudeness and overpricing. This was an excellent place to get my car worked on. They didn't speak to me like I was an idiot and did not overcharge me at all. Highly recommend.
Great place! He is very honest and trustworthy, and actually told me things I should do for my car to see if I could fix the problem to save me time and money. He beat every mechanic within a 10 mile radius and is a good person, and good business. I cannot recommend them enough.