Quality and Honest Automotive Repair
We know it's difficult to find an automotive shop that you can trust. We work hard to gain your trust and keep it with honest and quality repairs.
A little bit about the owner…
---
Emiliano Canales is the proud owner of EC Quality Car Care. He opened the automotive repair shop around 18 years ago with his wife Margie Canales. He has always had a love for fixing cars and helping people. He dedicated his life to helping others by providing affordable automotive services that people can trust.
With the university near by, Mr. Canales is always helping students get back on the road. With three children, he knows how important it is to have someone nearby you can trust. His son is in the Air Force and his daughter is a military spouse. He works hard to provide discounts to students and military members. 
EC Quality Car Care is growing quickly with new technology and products to make sure your vehicle will be up and running efficiently. 
"We understand you have a choice in automotive repair, and as a family-owned small business, we greatly appreciate your business and we welcome you as family." -Mr. Canales
---
Testimonials
December 2015- Great experience at EC Quality Car Care every time I go. Very polite and professional. I feel very taken care of, as if I am going to my dad's shop, and I know my car is in the great hands of certified mechanics. Definitely recommend this establishment time and time again.
Our shop

Latest Technology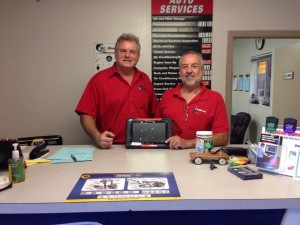 School Support